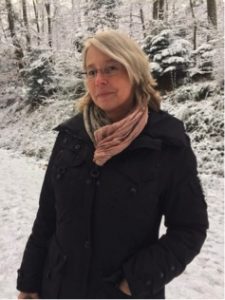 Christiane studied biology at the University Louis Pasteur in Strasbourg. She did her PhD from 1990 to 1993 in the group of Dr. Günther Hahne at the Institut de Biologie Moléculaire des Plantes (CNRS) in Strasbourg. She obtained in 1993 an EMBO long term postdoctoral fellowship to join the group of Gunther Neuhaus in the Department of Prof. Ingo Potrykus at the ETH Zürich. Christiane moved in 1996 as a group leader to the Cell Biology Department at the Albert-Ludwig University Freiburg where she obtained an assistant position in 2001. In 2004, she was appointed as lecturer (akademische Rätin) and since 2008 she is senior lecturer (akademische Oberrätin) in the Cell Biology Department of the Faculty of Biology in Freiburg.
---
RESEARCH INTERESTS
Hormonal signaling in Poaceae development
This project aims to analyze the hormonal signaling networks underlying early Liliopsida resp. Poaceae development and embryonic patterning.
The focus lies on:
Investigating signaling cascade(s) activated in response to local auxin concentration required to build the embryonic axis.

Exploring the role of Brassinosteroid signaling in early development.

Analyzing GSK3/SHAGGY Poaceae orthologs as key regulator of Brassinosteroid signaling.

Gaining insight into the molecular crosstalks between auxin and brassinosteroid signaling pathways.
---
PUBLICATIONS
Bittner T, Nadler S, Schulze E, Fischer-Iglesias C (2015)
Two homolog wheat Glycogen Synthase Kinase 3/SHAGGY – like kinases are involved in brassinosteroid signaling
BMC Plant Biology, 15:247, DOI: 10.1186/s12870-015-0617-z
Bittner T, Campagne S, Neuhaus N, Rensing SA, Fischer-Iglesias C (2013)
Identification and characterization of two wheat Glycogen Synthase Kinase 3/ SHAGGY-like kinases
BMC Plant Biology, 13:64, DOI: 10.1186/1471-2229-13-64
Rober-Kleber N, Albrechtová J, Fleig S, Huck N, Michalke W, Wagner E, Speth V, Neuhaus G, Fischer-Iglesias C (2003)
Plasma membrane H+-ATPase is involved in auxin-mediated cell elongation during wheat embryo development.
Plant Physiology, 131: 1302-1312, DOI: http://dx.doi.org/10.1104/pp.013466
Fischer-Iglesias C, Sundberg B, Neuhaus G, Jones AM (2001)
Auxin distribution and transport during embryonic pattern formation in wheat.
Plant Journal, 26: 115-129, DOI: 10.1046/j.1365-313x.2001.01013.x
Fischer C, Speth V, Fleig-Eberenz S, Neuhaus G (1997)
Induction of zygotic polyembryos in wheat: influence of auxin polar transport.
Plant Cell, 9: 1767-1780, DOI: http://dx.doi.org/10.1105/tpc.9.10.1767
Fischer C, Neuhaus G (1996)
Influence of auxin on the establishment of bilateral symmetry in monocots.
Plant Journal, 9: 659-669, DOI: 10.1046/j.1365-313X.1996.9050659.x
Fischer C, Neuhaus G (1995)
In vitro development of globular wheat embryos.
Plant Cell Reports, 15: 186-191, DOI: 10.1007/BF00193717
Fischer C, Laparra H, Hahne G (1993)
Towards somatic hybrids of sunflower.
Biotechnol.& Biotechnol. Eq. 7(4B): 129-131
Fischer C, Klethi P, Hahne G (1992)
Protoplasts from cotyledon and hypocotyl of sunflower (Helianthus annuus L).: shoot regeneration and seed production.
Plant Cell Reports, 11:632-636, DOI: 10.1007/BF00236388
Fischer C, Hahne G (1992)
Structural analysis of colonies derived from Sunflower (Helianthus annuus L.) protoplasts cultured in liquid and in semi-liquid media.
Protoplasma, 169:130-138, DOI: 10.1007/BF01323612
Book chapters
Fischer-Iglesias C, Rober-Kleber N (2005)
Auxin as a positional and patterning molecule essential for embryo development in plants.
Advances in Plant Physiology 8: 169-187.
Fischer-Iglesias C, Neuhaus G (2003)
Auxin controlled embryonic patterning.
The Botanica 53:8-22.
Fischer-Iglesias C, Neuhaus G (2001)
Zygotic embryogenesis: hormonal control of embryo development.
In 'Current trends in the embryology of Angiosperms', Bhojwani S.S., Soh W.Y. (Eds.), Dordrecht, Boston, London: Kluwer Academic Publishers, pp 223-247.
Fischer C, Laparra H, Charrière F, Jung J-L, Hahne G (1996)
Regeneration of plants from protoplasts of Helianthus annuus L. (Sunflower).
In Biotechnology in Agriculture and Forestry, Vol. 38 – Plant Protoplasts and Genetic Engineering VII, Bajaj YPS. (Ed.), Berlin, New York: Springer Verlag, pp 48 – 63.