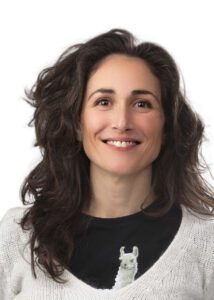 Beatrice studied Plant Biology at the University of Turin (Italy), where she graduated in 2010 under the supervision of Prof. Silvia Perotto with a thesis on 2-DE electrophoresis and mass spectrometry techniques applied to the study of protein expressed during the mycorrhizal symbiosis of Orchids. After her Master's degree, she joined the group of Prof. Paola Bonfante (2011-2012; Dept. of Life Sciences and System Biology, University of Turin) where she took advantage of GFP-tagged lines and live-cell imaging to investigate the cellular interactions occurring between the biocontrol fungus Trichoderma atroviride, the leguminous plant Medicago truncatula and two arbuscular mycorrhizal fungi belonging to the Gigaspora genus under in vitro culture conditions.
She then did her PhD in Biology and Applied Biotechnologies and subsequent one-year PostDoc (2012-2016) in the group headed by Prof. Cristina Prandi at the Dept. of Chemistry (University of Turin) working on a project dealing with the synthesis and application of fluorescent analogues of small bioactive compounds produced by plants, namely Strigolactones (SLs), with the aim to map their spatiotemporal distribution in vivo in both plants and arbuscular mycorrhizal (AM) fungi.
Beatrice joined our lab as a PostDoc in March 2017. She now focuses on studying the roles of remorins and other proteins in legumes engaged in the dual interaction with nitrogen-fixing bacteria and arbuscular mycorrhizal fungi.
---
PUBLICATIONS
Lace B, Su C, Invernot-Perez D, Rodriguez-Franco M, Vernié T, Batzenschlager M, Egli S, Liu CW, Ott T (2022)
RPG acts as a central determinant for infectosome formation and cellular polarization during intracellular rhizobial infections
pre-printed deposited at: https://www.biorxiv.org/content/10.1101/2022.06.03.494689v2 (open access)
Su C, Rodriguez-Franco M, Lace B, Nebel N, Hernandez-Reyes C, Liang P, Schulze E, Popp C, Keller J, Libourel C, Fischer AAM, Gabor KE, Mymrikov EV, Gross NM, Mark E, Hunte C, Weber W, Wendler P, Stanislas T, Delaux PM, Einsle O, Ott T (2022)
Remorin proteins serve as membrane topology scaffolds in plants
pre-printed deposited at: bioRxiv; https://www.biorxiv.org/content/10.1101/2022.03.15.484384v1 (open access)
Liang P, Schmitz C, Lace B, Ditengou FA, Su C, Schulze E, Knerr J, Grosse R, Keller J, Libourel C, Delaux PM, Ott T (2021)
Formin-mediated bridging of cell wall, plasma membrane, and cytoskeleton in symbiotic infections of Medicago truncatula
Current Biology; https://doi.org/10.1016/j.cub.2021.04.002
pre-print deposited at: bioRxiv; https://doi.org/10.1101/2020.07.10.197160
Sanchez E., Artuso E., Lombardi C., Visentin I., Lace B., Saeed W., Lolli M. L., Kobauri P., Ali Z., Spyrakis F., Cubas P., Cardinale F. and Prandi C. (2018)
Structure–activity relationships of strigolactones via a novel, quantitative in planta bioassay
Journal of Experimental Botany; https://doi.org/10.1093/jxb/ery092
Lace B, Ott T (2018)
Commonalities and differences in controlling multipartite intracellular infections of legume roots by symbiotic microbes
Plant & Cell Physiology; 59 (4): 666–677
Parisotto, S., Lace, B.,   Artuso, E.,  Lombardi, C., Deagostino, A., Scudu, R., Garino, C., Medana, C. and Prandi, C. (2017)
Heck functionalization of an asymmetric aza-BODIPY core: synthesis of far-red infrared probes for bioimaging applications
Organic and Biomolecular. Chemistry, 15, 884-893.
Lace, B., Prandi, C. (2016)
Shaping small bioactive molecules to untangle their biological function: a focus on fluorescent plant hormones
Molecular Plant, 9, 1099–1118.
Fridlender, M.*, Lace, B.*, Wininger, S., Dam, A., Kumari, P., Belausov, E., Tsemach, H., Kapulnik, Y.,Prandi, C.,Koltai, H (2015)
Influx and Efflux ofStrigolactonesAre Actively Regulated and 
Involve the Cell-Trafficking System.
Molecular Plant, 8, 1809-1812.
Artuso, E., Ghibaudi, E., Lace, B., Marabello, D., Vinciguerra, D., Lombardi, C., Koltai, H., Kapulnik, Y., Novero, M., Occhiato, E. G., Scarpi, D., Parisotto, S.,Deagostino, A., Venturello, P., Mayzlish- Gati, E., Bier, A., Prandi, C. (2015)
Stereochemical assignment of strigolactone analogues confirms their selective biological activity
Journal of Natural Products, 78, 2624-2633.
Lace, B., Genre, A., Woo, S., Faccio, A., Lorito, M. and Bonfante, P. (2015)
Gate crashing arbuscular mycorrhizas: in vivo imaging shows the extensive colonization of both symbionts by Trichoderma atroviride.
Environmental Microbiology Reports, 7, 64-77.
Prandi, C., Ghigo, G., Occhiato, E. G., Scarpi, D., Begliomini, S., Lace, B., Alberto, G., Artuso, E. and Blangetti, M. (2014)
Tailoring fluorescent strigolactones for in vivo investigations: a computational and experimental study
Organic & Biomolecular Chemistry, 12, 2960-2968.
Prandi, C., Rosso, H., Lace, B., Occhiato, E.G., Oppedisano, A., Tabasso, S., Alberto, G., Blangetti, M. (2013)
Strigolactone analogues as molecular probes in chasing the (SLs) receptor/s: design and synthesis of labeled molecules
Molecular Plant, 6, 113-127.
Lace, B., Molecular Plant, Volume 6 Issue 1 January 2013, cover image.