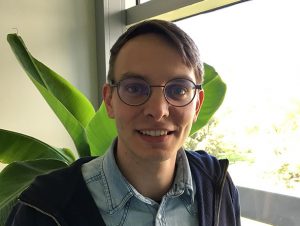 Sebastian started his scientific career at the Institute of Phytopathology at the University of Gießen. He graduated in 2011 as a Master of Science within the framework of the international Master program in Agrobiotechnology. Then he started his PhD about the molecular aspects of plant-defense priming induced by bacterial communication molecules. The project included the analyses of cellular signaling events in plant defense responses such as study of Mitogen-Activated Protein Kinase (MAPK), transcriptomic analyses, the investigation of metabolic changes, as well as the analyses of cell-wall- and stomata- defense responses. At the end of the year 2014, Sebastian received his doctorate degree in agricultural science.
In 2015, he was awarded a two years AgreenSkills incoming fellowship to work as a PostDoc in the stress-signaling group of the Institute of Plant Sciences Paris-Saclay. Sebastian focused his work on the molecular analyses of the cellular signaling events during stress adaptation processes of plants. In particular, he investigated a MAP-Kinase module activated under abiotic stress conditions and during primary-nitrogen response in the model-plant Arabidopsis thaliana.
Sebastian joined our lab as a PostDoc in April 2017 leading his own projects on metabolic signaling and perception mechanisms during plant-microbe interaction.
---
Selected Publications
Hernández-Reyes C, Lichtenberg E, Keller J, Delaux PM, Ott T, Schenk ST* (2021); NIN-Like Proteins; interesting Players in Rhizobia-Induced Nitrate Signaling Response during Interaction with Non-Legume Host Arabidopsis thaliana; Molecular Plant-Mircrobe Interactions; 35(3): 230-243
pre-print deposited at: bioRxiv; https://doi.org/10.1101/2020.09.08.287219 (open access)
* corresponding author
Sözen C, Schenk ST, Boudsocq M, Chardin C, Almeida-Trapp M, Krapp A, Hirt H, Mithöfer A, ColcombetJ 2020. Wounding and Insect Feeding Trigger two Independent MAPK Pathways with Distinct Regulation and Kinetics.
Plant Cell. 32: 1988–200
Chardin C, Schenk ST, Hirt H, Colcombet J, Krapp A. 2017. Mitogen-Activated Protein Kinases in nutritional signaling in Arabidopsis.
Plant Sci. 7(260): 101-108
Schikora A, Schenk ST, Hartmann A. 2016. Beneficial effects of bacterial-plant communication based on quorum sensing molecules of the N-acyl homoserine lactone group.
Plant Mol Biol. 90(6): 605-612
Schenk ST and Schikora A. 2015. AHL-priming function via oxylipin and salicylic acid.
Front Plant Sci. 14(5)784.
Hernández-Reyes C, Schenk ST, Neumann C, Kogel KH, Schikora A. 2014. N-acyl homoserine lactone-producing bacteria protect plants against plant and human pathogens.
Microb Biotechnol. 7(6):580-588.
Schenk ST, Hernández-Reyes C, Samans B, Stein E, Neumann C, Schikora M, Reichelt M, Mithöfer A, Becker A, Kogel KH, Schikora A. 2014. N-Acyl-Homoserine Lactone Primes Plants for Cell Wall Reinforcement and Induces Resistance via the Salicylic Acid/Oxylipin Pathway.
Plant Cell. 26: 2708-2723.
Schenk ST, Stein E, Kogel KH, Schikora A. 2012. Arabidopsis growth and defense are modulated by bacterial quorum sensing molecules.
Plant Signal Behav. 7(2):178-181.