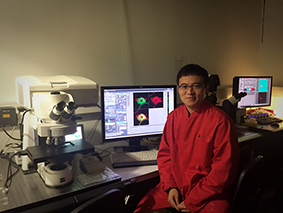 Pengbo studied Virology and Pomology during his MSc  under the co-supervision of Prof. Hongqing Wang and Prof. Shifang Li from China Agricultural University (CAU) and Chinese Academy of Agricultural Sciences (CAAS), respectively. After obtaining his MSC degree at CAU, he obtained a 4-years fellowship of the Chinese Scolarship Council (CSC) and started his PhD in autumn 2015 in our lab. Pengbo graduated in October 2020 and will stay for a couple of more months in the lab.

His project focuses on the molecular assembly of a pathway specific membrane microdomain (MD) that control host cell infection. Pengbo makes use of a number of scaffold proteins that mediate the formation of a molecular signalling hub. One of the main goals is the identification of novel components within this domain and to unravel their sequential recruitment by these scaffolds.
"By the way, do not hesitate to add me as your Facebook friend if you are also a big fan of Microscopes, Billiard or Magic tricks, since we love these."
Google me: https://www.facebook.com/pomulpb
---
PUBLICATIONS
Liang P, Schmitz C, Lace B, Ditengou FA, Su C, Schulze E, Knerr J, Grosse R, Keller J, Libourel C, Delaux PM, Ott T (2021)
Formin-mediated bridging of cell wall, plasma membrane, and cytoskeleton in symbiotic infections of Medicago truncatula
Current Biology; 31(12): 2712-2719 (open access)

Liang P*, Stratil TF*, Popp C, Marin M, Folgmann J, Mysore KS, Wen J, Ott T (2018)
Symbiotic root infections in Medicago truncatula require remorin-mediated receptor stabilization in membrane nanodomains
Proceedings of the National Academy of Sciences U S A; 115 (20) 5289-5294
Liang, P., Navarro, B., Zhang, Z., Wang, H., Lu, M., Xiao, H., … & Li, S. (2015)
Identification and characterization of a novel geminivirus with a monopartite genome infecting apple trees
Journal of General Virology, 96(8), 2411-2420.